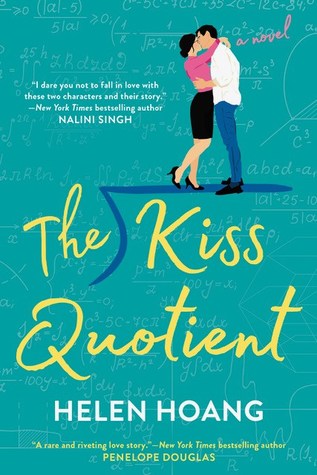 A heartwarming and refreshing debut novel that proves one thing: there's not enough data in the world to predict what will make your heart tick.
Stella Lane thinks math is the only thing that unites the universe. She comes up with algorithms to predict customer purchases — a job that has given her more money than she knows what to do with, and way less experience in the dating department than the average thirty-year-old.
It doesn't help that Stella has Asperger's and French kissing reminds her of a shark getting its teeth cleaned by pilot fish. Her conclusion: she needs lots of practice — with a professional. Which is why she hires escort Michael Phan. The Vietnamese and Swedish stunner can't afford to turn down Stella's offer, and agrees to help her check off all the boxes on her lesson plan — from foreplay to more-than-missionary position…
Before long, Stella not only learns to appreciate his kisses, but to crave all the other things he's making her feel. Soon, their no-nonsense partnership starts making a strange kind of sense. And the pattern that emerges will convince Stella that love is the best kind of logic…
4 Stars
This is book gives you a peek into the life of an autistic person. How things affect them and how they can potentially react. I was not prepared to fall in love with the characters and cheer for them during their struggles. Everyone is struggling with something. Everyone needs to look past that and succeed in life.
Stella is a math guru, she loves numbers and marketing. She is amazing at her job. She is not however amazing with people. Her mom wants Stella to marry and have babies. Because that's what all mom's ultimately want right? But Stella feels broken. The few times she was intimate, she didn't like it – Stella it's NOT you! A co-worker makes a suggestion and she goes with it. Michael drops into her life and turns it all around. She is unaware of how her life is changing until it all crumbles. Can this thing between Stella and Michael work out? Can she be enough for him?
Michael hates that he is an escort, but he needs the money to help his mom. So here he is selling his image to lonely women. Then he is hired by Stella. A beauty. Yes, she is awkward, but who isn't. When she reveals what she needs/wants from him, can he do it? Can he help her be sexy and loving towards another man? Or will he fall flat on his face? The money she is offering is good, so he takes the chance. Slowly they work together, trying to get Stella comfortable with being touched sexually. It's only when Michael meets her parents that the plan goes into a tailspin and he bails out. Leaving Stella to take care of herself. He's not good enough for her. He has tainted genes. She'd be better off without him. Would she? Does he want this? He doesn't know.
Will Stella and Michael have a happily ever after? Or are they doomed to walk the Earth alone?
I will say the characters are amazing. All of them, even the secondary characters. I love Me and Quan. I hated Philip – what a dick! This would have been a 5 star for me, had it not been insta-love between Michael and Stella. I was hoping they would grow to that, after a few encounters. The plot kept the book interesting and moving forward.
Even with the insta-love, it's a good book. You can see Stella struggle and then open up. Michael has his own demons to slay. Two flawed people making a go at it. It has to be worth it right?