Welcome to another edition of let's learn something new.  You've plotted your book out, know where it's going to happen and are ready to write.  Or are you?  The city you've selected is a city you visited, let's go with Atlantic City.  I have limited information about AC.  Only what I hear from the news and the few times, years ago that I was there.  I do know that there are casinos on the boardwalk.  I know Trump had a casino there.  I also know that prostitution is rampant there.  The big hotel is the Borgata – which until I pulled up a map, I didn't know wasn't on the boardwalk.  There is a lot of information you can pick up just from the map.
Go to Google.com/maps
Type in Atlantic City, NJ
Change the terrain to Satellite – so you get better details.
On the left side of the screen, you'll see
That quick fact tells you A LOT!
Back to the map –
Right off the bat, you'll see that it has a lighthouse, aquarium and several casinos.  As well as some marshy looking islands with nothing on them.  Perfect for the mob to dump a body because no one would notice the trash washing up on the shore.  You will also notice an airfield – perfect for quick escapes!  Look closer, zoom in.
They have a rail terminal – who knew?  Not me!
Figure out your placement on the map, where you want things to happen.   There's a marina, but it's close to the State Police, might not be the best place to set up a crime scene.  The Steel Pier looks like a great place for a first date.  Housing developments look to the west of the casinos.   Print out a map.  Pinpoint where things take place, look around the map and figure out how they got there, what's around them.  Believe me, people who live in the town you are writing about will pick it apart if you get a detail wrong!
The town is mapped out – YEAH!  Now onto the history of the town.  Let's say your book is set in the 1920's prohibition-era Atlantic City.  What do you know?  Everything I know about the era I learned on Boardwalk Empire.  Is it true?  No idea.
Off to the internet and doing some research.
1920's in AC was the Golden Age.  It was the place to be.
Here is a map of the railroad – perfect if you are writing about bootleggers.  This map can tell you how to bring in the hooch, where to drop it and how to get out.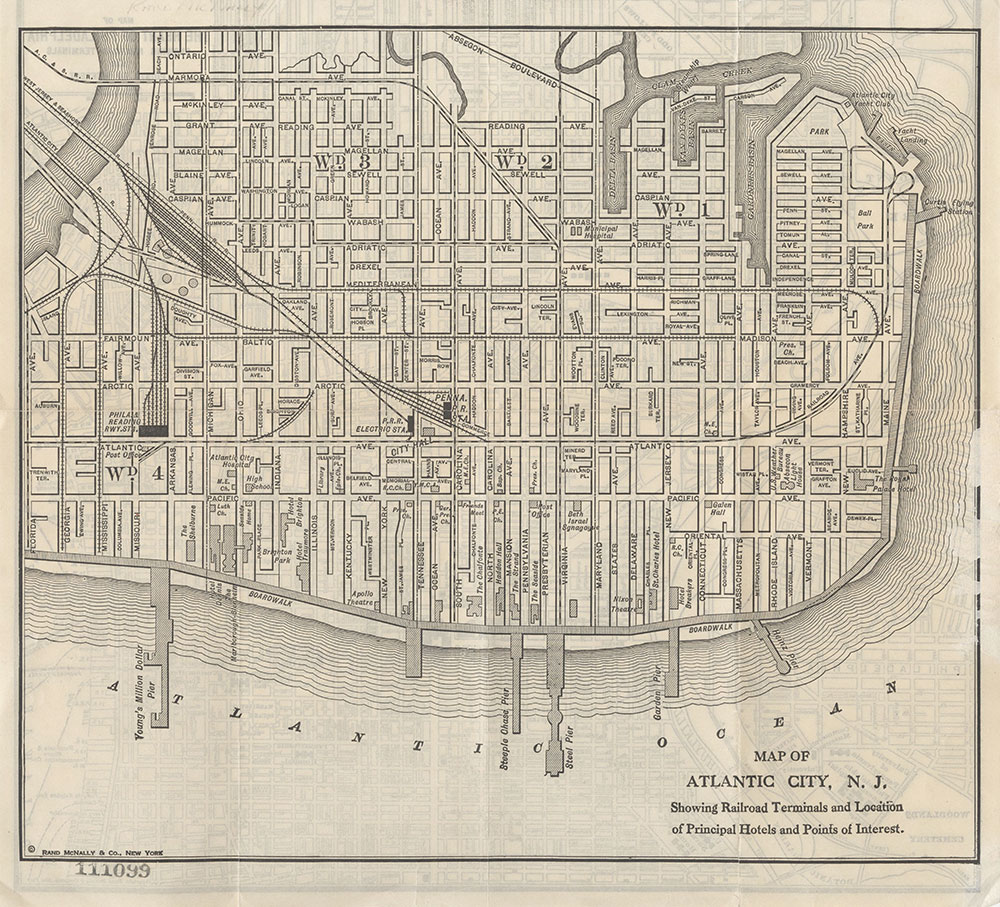 You have to know the lay of the land before you can just write about the city/town that you are setting your story in.
Things that were prominent in Atlantic City circa 1920s:
bootlegging
mobsters
Nucky Thompson
Golden Age
Haddon Hall was built in 1929
Boardwalk Hall finalized in 1924
Miss America Pageant started in 1921 – Bader was a big backer of this idea
First organized crime gathering in May 1929
Incubators were first showcased on the boardwalk of Atlantic City.  They were marketed as sideshows.
These are just a few of the rich historical pearls you can pull from the internet.  From there build on what you are right.  Is there a sickness that kills off some people during that time frame?
Does someone famous die?
Is there a big fire?
Famous people?
Big Events
Things that you need to remember when you are writing your book.  Things happen in the real world that can tie into your book.  Giving it more authenticity and creativity.  Don't just set your characters in the town/city and expect that to be enough.  It's not.  You'll be doing yourself, your book, and your future readers a disservice for not following through with research.
Part 2 of this scathing mini-series will be on plotting in a foreign country and what you should be aware of.